Restoration Healthcare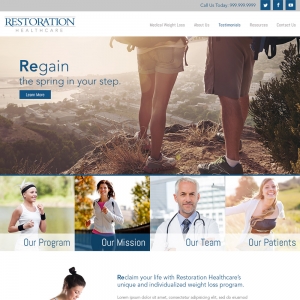 Restoration Healthcare came to Epic Marketing in need of a complete brand overhaul. A weight loss and preventative care clinic in Irvine, CA, it was necessary that their website convey the comprehensiveness of their services in a user-friendly manner. Additionally, Epic was tasked with strategy planning, preparing marketing advice, and writing unique and relevant copy that would help increase business. Today, their site (complete with newly-designed logo) is live, mobile-friendly, and optimized for SEO purposes.
Houston VIR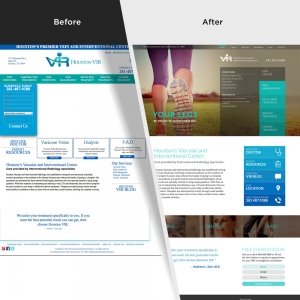 Houston VIR's site was non responsive and was difficult to navigate. Recognizing that a significant amount of their traffic comes from mobile devices, Epic Marketing built a new site that was optimized for mobile and onsite SEO. Additionally, Epic had to come up with a creative way to incorporate a lot of services in an easy-to-use navigation for this vascular and interventional radiology center in Houston, TX. The result was a new site that has a clean layout and fresh, up-to-date look.
Sorrento Valley Pain Relief Center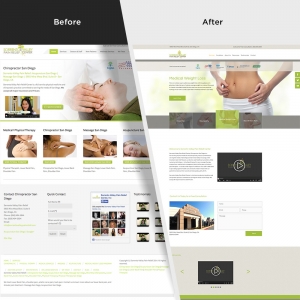 Sorrento Valley Pain Relief Center came to Epic Marketing because they disliked the look of their site. Additionally, the site architecture was poor, making it difficult to find information about the services that they focus on (there were even services listed that they do not provide). Epic went in and built a new site that was modern and that had fresh, easily-understandable informative copy. Now the new site is easy to navigate for this pain relief center in San Diego, CA.
VeriScreen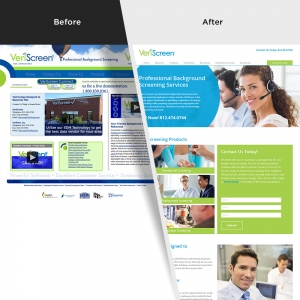 VeriScreen came to Epic Marketing with a poorly done website that was non responsive. Having been referred to Epic by another client whose website Epic designed and that VeriScreen liked, Epic undertook a logo refresh, created some new copy, and ensured that the new site was responsive and that its onsite SEO was maximized. Though the new site has not yet been launched, below is a snapshot of what this professional background screening services company's new site will look like.