Generally speaking, SEO helps your business be relevant to a target audience, increase site traffic, build brand awareness and improve user experience. SEO is a long term strategy that requires serious dedication. Approaching SEO can be scary, but it's ok to start small. Small changes can gradually lead to great success. Here are a few "starting small" SEO tips:
Know Your Current Ranking
It's hard to know if your SEO strategy is working effectively unless you know your current position and THEN monitor progress. Before starting a new strategy, track your current rankings.
So – how do you monitor your ranking? There are various tools designed to help you do this. If you're just getting started, there are a number of free tools to help! You can start with tools like Traffic Travis, RankWatch, and RankScanner. One thing to note with free trackers – they don't store your rankings over time. So, every month (or however often you are checking), I suggest exporting the list and comparing it the next time you check. There are also some great tools that cost money like SEMRush, WebCEO, and Ahrefs. These paid tools often have more features in their database. This could include things like audits, keyword research options, competitor information, etc.
Pay Attention To Keywords
It's hard to discuss SEO basics without mentioning keywords, they should be the center of every optimization strategy. Keywords are search terms that people use to find relevant content online. Understanding how your target audience is searching and the keyphrases they're using will help you better know what kind of content to optimize your website with. Use the keyphrases, and their synonyms in the headings, subheadings, meta descriptions, image descriptions, and web content.
It is important to note that using too many keywords could adversely affect your ranking. Google could label your site as spammy and penalize you for keyword stuffing. Always try to strike a balance. The balance I try to stick to is a keyword density of 2-2.5%. The content you write for your website or blog, shouldn't be stuffed with keywords, it should be informative and answer the questions the user came to your site to get answered.
Create Internal and External Links
Most beginners underestimate the importance of links. Links are an integral part of SEO basics because they help to increase traffic to specific pages of your website. When creating content, always incorporate relevant links to other pages on your site and link externally to other authoritative sites. Ensure you use keyphrase focused anchor text that highlights what is contained on the page you are linking to. This will increase the chances of your page appearing when internet users search for the anchor text.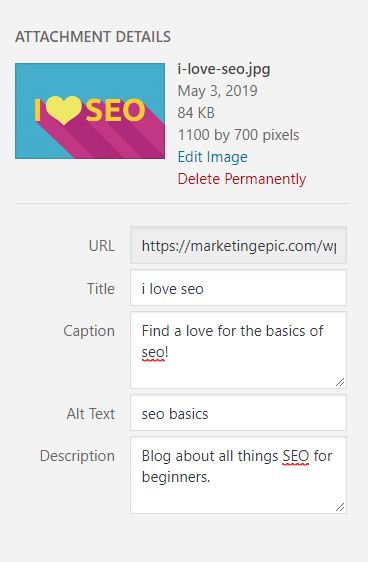 Include Relevant Image Info
A key to SEO is understanding how bots crawl your website, but more specifically, your images. Bots (also known as crawlers) only read the text and overlook images. So file name, alt tags and image descriptions help them to know what the picture is all about. All image elements should include the key phrase, but also describe what the image is. Google is smart enough to know when you're trying to trick them by stuffing more keywords. Your site or page could be penalized for making your content hard to understand for sight-impaired people.
Post Fresh and Relevant Content
An effective way to ensure your site has fresh content is by adding a blog that focuses on relevant topics. The blog will attract a significant number of readers, educate them on the subject and convert some of them into loyal customers. A blog gives you opportunities for internal and external linking and allows you to demonstrate your authority on the subject matter.
Content must be fresh, relevant and engaging. The idea behind a blog is not only to show search engines that you're an active member of your community but also to become a resource for tips and tricks in your industry.
Even though SEO can be a complex topic, with a base knowledge of what your SEO starting point is, you can create a long-term game plan to scale the SERPs. If you're on information overload, contact us today! Our team of SEO experts is ready to help.