Let your epic flag fly.
We love people! And we especially love working with folks that get just as worked up as us about delivering solid strategy, powerful solutions, and beautiful design. So if awesome perks, a talented team, and challenging work tick all your boxes, check out our open positions below.


We do great work for companies and brands that are doing some really great things.

And we're hiring.

Are you an expert at something we do but don't see an opening for what you're after? We're always looking for the right people. Contact us and let's see what happens.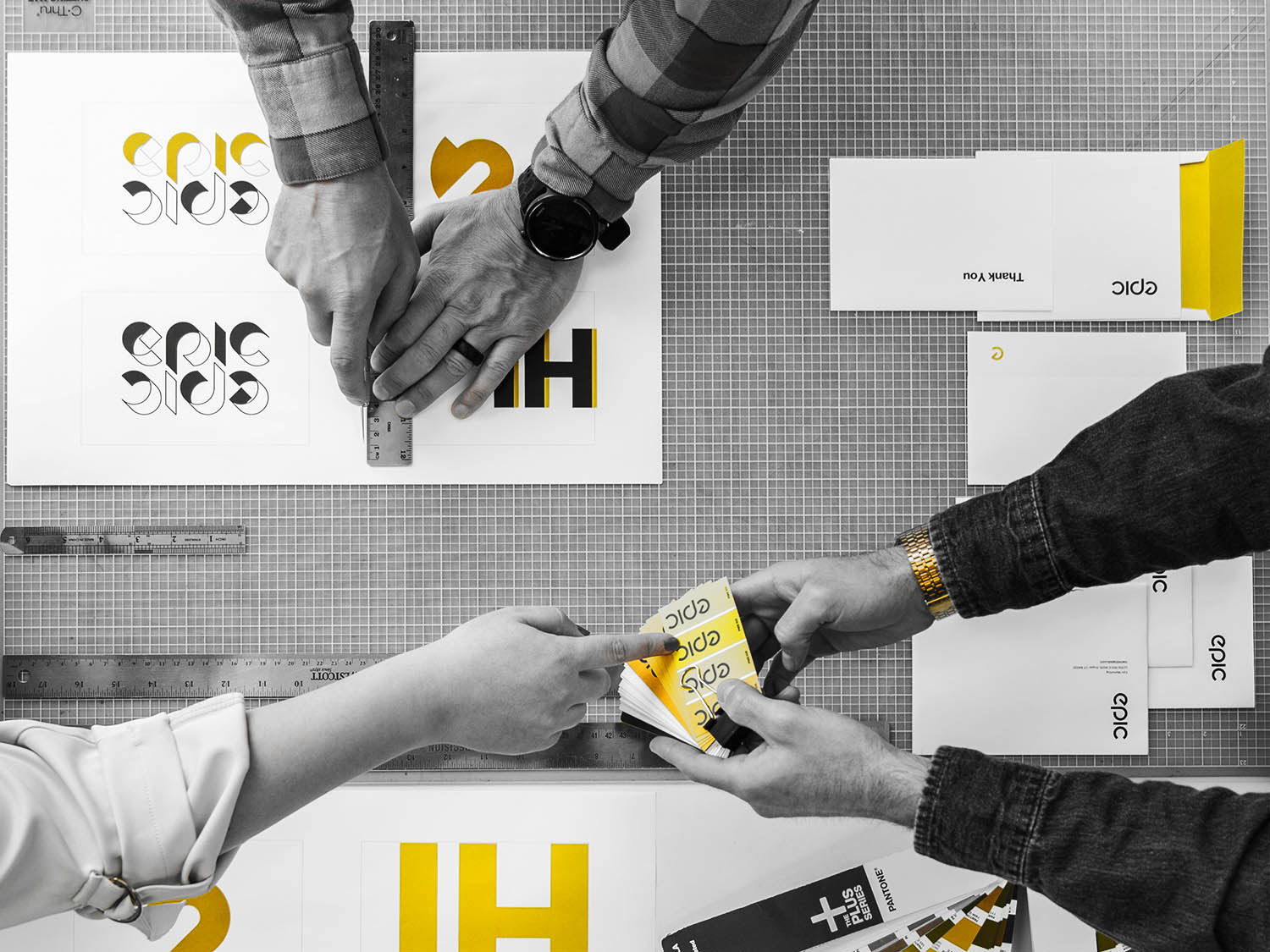 Office Assistant

Epic Marketing's Office Assistant is an important member of the Operations and Client Service team, and reports to the Office Manager.

Job Description

The Office Assistant performs a variety of administrative functions and front desk duties. Schedules appointments and gives information to callers. Generates reports, handles multiple projects, prepares and monitors invoices and expense reports. Assist with compiling, developing budget and expenses; knowledgeable of commonly-used financial concepts, practices, and procedures. The Office Assistant relies on instructions and pre-established guidelines to perform the functions of the job; works under immediate supervision from the Office Manager.

RESPONSIBILITIES:

Assists office manager

Assists office staff in maintaining files and databases

Fielding telephone calls, receiving and directing visitors

Provides information by answering questions and requests by telephone and email

Resolves administrative problems, analyzing data, and identifying solutions.

Prepares reports, presentations, memorandums, proposals and correspondence

Monitors office operations

Schedules appointments and meetings for executives and upper level staff

Serves as the go-to for office inquiries

Tracks office supply inventory and approves supply orders

Assists in the preparation of invoices, department budgets and expenses

Contributes to sales team effort by accomplishing tasks as needed.

Occasional local travel is required.

Job Type: Full-time

Salary: $12.00 to $14.00 /hour


Minimum Qualifications

2 years or more related experience

Minimum High School Diploma

Preferred Associates Degree or Higher

A can-do attitude and competitive spirit.

Detail oriented and works with a high degree of accuracy

Excellent time management skills and the ability to prioritize tasks with competing deadlines

Ability to multitask and meet changing deadlines

Must be self-directed and able to complete projects with limited supervision

Maintains confidentiality

Working knowledge of email, scheduling, word processing, copying, faxing, scanning, spreadsheets and presentation software

Excellent written and spoken communication skills

The ability to work both independently and collaboratively with little direction

Must be flexible to meet business and training needs

Other duties or special projects as assigned by Office Manager or the Company

Digital Marketing Specialist

Epic Marketing is seeking an experienced Digital Marketing Specialist who will be responsible for the day-to-day management of paid digital marketing campaigns which can include SEO, paid search, display and social advertising strategies across both B2B and B2C business.



Job Description

At Epic Marketing, the Digital Marketing Specialist role is typically responsible for creating and optimizing paid media channels to support clients in their growth goals.

The Digital Marketing Specialist role will help drive growth and success for organizations on digital platforms. This role is important as it is an integral part of the development and management of having an effective digital strategy as well as effective media buying for our customer base.

At Epic, the Digital Marketing Specialist will work within a larger digital marketing team and report directly to the Digital Director to ensure digital media strategies are aligned with overarching marketing goals for our individual customers. Your daily responsibilities may include:

Developing, executing, and optimizing cutting-edge digital campaigns from conception to launch

Working cross-departmentally to align campaign strategies and goals across the organization

Providing ongoing actionable insights into campaign performance to relevant stakeholders

Defining, measuring, and evaluating relevant paid media KPIs for customers

Building out media buys for various ad platforms and overseeing the day-to-day execution of digital media and content

Overseeing and managing the overall digital campaign for each individual client

Conducting in-depth keyword and website research, ad grouping and audience targeting, and campaign and website audits

Maintaining knowledge of industry best practices and new technologies

This is an in-person position in our Draper, UT office. This position is full-time.

Salary: $15.00 to $25.00 /hour


Minimum Qualifications

1+ years of experience in digital marketing with a experience in a variety of SEO, PPC, Display, Remarketing, and Analytics (agency preferred)

A history of developing business-driving integrated digital marketing programs for clients

Experience building, growing, auditing, monitoring,and reporting on different types of digital ad campaigns

Ability to solve problems and identify opportunities through the use of data & analytics, market research, and strategic frameworks

Experience managing complex, multi-platform digital marketing strategies across clients

Successful track record of helping to build and present strategic digital approaches, recommendations, and tactics for clients

Ability to translate digital & industry trends into simple and compelling language

Understanding of agency-style business operations and how to leverage performance tactics to ensure long-term customer success and continued revenue growth

An individual who thrives in a collaborative environment and a passion for building a new department and service offering within an agency

Strong client and team leadership qualities, comfortable contributing to company's thought leadership on digital marketing industry topics

Bachelor's degree, highly preferred

Marketing Account Coordinator

Marketing Account Coordinators are important members of the account management and client services team, and report to the General Manager.

Job Description

The Account Coordinator serves as a key business contact for the client and works in collaboration with Accounts team to deliver high client satisfaction and Epic service utilization. The Account Coordinator is expected to consistently provide excellent customer service to accounts, oversee advertising campaigns, and complete all marketing activities or projects in a timely manner which proves profitable to the company. As well as represent client needs and goals within the organization to ensure quality. In addition, the Account Coordinator will build relationships with clients to encourage new and repeat business opportunities.

Responsibilities and Duties

Is responsible for all client communications, conflict resolution, and compliance on client deliverables and revenue; owns the contract and contract renewals for new work for an existing client.

Approves advertising, media buys, change orders and invoices, managing campaign costs and is responsible for payment collections when necessary.

Articulate clearly by providing regular two-way communication between the client and team, to provide strong team representation and set proper client expectations.

Works closely with the project team in order to maintain a continuous knowledge of project status in order to identify potential issues and or opportunities within or related to an advertisement or project.

Ensures that all processes and procedures are completed, quality standards are met, and that projects are profitable.

Be aware and in pursuit of opportunities for account growth with clients and work along-side of Account Director in prospecting for new business as required by account falloff or by the General Manager.

Understanding of company capabilities and services, and effectively communicates all offerings to the client or prospects. Ensure that clients know how to use the services and provide assistance if necessary.

Conduct reviews on accounts on regular basis to evaluate clients' demands and usage of account; determine types of services, prices, fees satisfying the clients' needs as well as the organization's objectives.

Conduct weekly review of promotional activities to enhance the motivation of the client to remain a client, and identify development potential to maximize our services and profitability of the organization and clients' satisfaction.

Reports to the General Manager and provides regular input on all account activity, including status and lead reports on a regular basis.

Meet with clients on a monthly basis to discuss and identify new advertising requirements, while working with agency colleagues to devise and or develop an advertising campaign that meets the client's budget.

Conduct ongoing research and analysis to assist with the formulation of new marketing strategies, presenting, alongside agency colleagues; particularly the General Manager, the campaign ideas and budget to the client.

Liaising with, and acting as the link between, the client and advertising agency by maintaining regular contact with both, ensuring that communication flows effectively;

Presenting creative work to clients for approval or modification; negotiating rates with media, vendors and clients and agency employees about the details of campaigns.

Write client reports, undertaking administration tasks, arranging and attending meetings; making presentations along with other agency employees, to win new business for the agency.

Other duties or special projects as assigned by General Manager or the Company.

Job Type: Full-time



Minimum Qualifications

Bachelor's degree (preferably in PR, communications or other marketing related field)

Required minimum of 1-2 years of advertising/marketing experience as an account manager/executive/coordinator.

Knowledge of principles and methods for showing, promoting and selling products or services, which includes marketing strategy and tactics, product demonstration, and sales techniques.

Creativity, proven account management skills required in order to create, maintain and enhance customer relationships

Extremely detail oriented, knowledge of principles and processes for providing customer service, including client needs assessment, meeting quality standards for services and evaluation of client satisfaction.

High technical competence of Microsoft Office, CRM software and Project Management software.

Competitive spirit, motivated, goal oriented, persistent and a skilled negotiator.

Team player, high level of initiative and work well in a team environment.

Excellent written and oral communication skills.

Understanding and comfort with basic web CMS (WordPress) and social platforms (FB, IG, Twitter, Pinterest, LinkedIn, etc)

Optimistic attitude, handles stressful situations and deadline pressures well.

Plans and carries out responsibilities with minimal direction.

Understanding of all aspects of advertising and marketing, multi-channel direct marketing, Internet search, prospect cultivation and data management.

Must have excellent Time Management skills.

Must be able to create reports, professional business correspondence and follow department procedures.

Must be able to effectively present information and respond to questions from team members, managers, employees, prospects and customers.

Must be flexible to meet business and training needs.