Paid social ads or paid search ads? Facebook or Google AdWords? These are questions that many business owners ask themselves when they are ready to grow their businesses. Like many digital marketing questions, the answer depends on your business, industry, and goals. This article will help decide which advertising platform is best suited for your needs.
Why Do You Want to Advertise Your Business?
Before we get started, why are you advertising your business? This may seem like an obvious question, but the answer to this is crucial. Are you promoting your business to gain brand awareness? Perhaps you have a new product or service you want to advertise? Or if you're like many businesses, you may simply want to generate new sales and leads. What you're your answer, keep this question in mind as you read this blog.
Facebook's Strengths
With over 1.65 billion monthly active users as of March 31, 2016, advertising on Facebook is an attractive option for many business owners. Utilizing Facebook's elaborate targeting options, businesses can reach people who are likely to be interested in their product or service. You can target users by age, location, behaviors, languages spoken, household composition, and much more.
Facebook is great for marketing products or services people would benefit from or enjoy, but are not necessarily searching for. Many companies successfully use Facebook ads to promote webinars, free workshops, and other lead generating events. It can also be used as a way to increase brand awareness (this works particularly well with new companies.) Facebook gives you a variety of advertising options centered on influencing awareness, consideration, and conversion.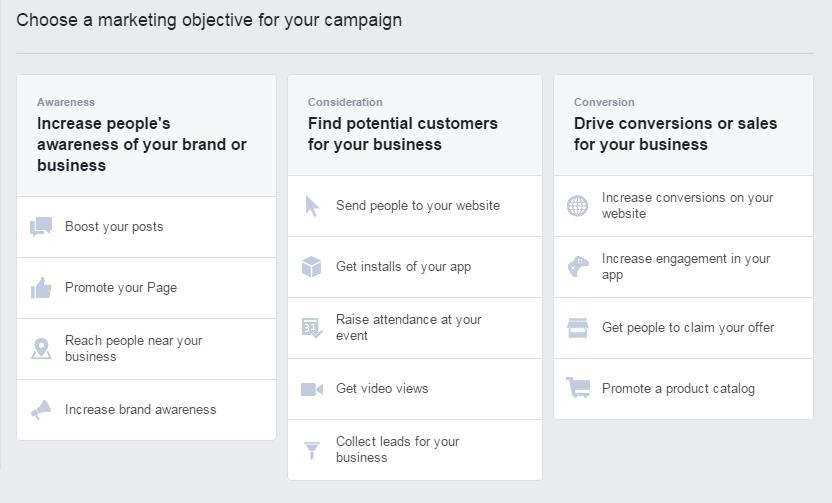 Google AdWords' Strengths
Averaging around 40,000 search queries per second, 3.5 billion searches a day, and 1.2 trillion searches each year, Google is the 800-pound gorilla of search engines and they have the advertising platform to prove it. When set up properly, it's hard to beat AdWords in relevancy. Through the Google search network and their search partners, advertisers can put an ad in front of a potential customer right when they search for it.
Instead of showing ads to people based on interests or behaviors, you can target by keywords or phrases typed or spoken into Google. For example, if you search "plumbers near me" you'll see half a dozen companies competing for your business. You are far more likely to click on an ad after searching for plumbing services than you are while scrolling through your Facebook newsfeed. As long as there is sufficient search volume, many products and services do really well on AdWords. eCommerce products, in particular, do well thanks to Google's shopping ads.
Do You Have to Choose One?
In a word, no! Don't fall into the trap of thinking you have to choose between Facebook and AdWords. Many companies successfully use both advertising platforms as well as traditional marketing to further their business goals. You don't need to choose one or the other!
Epic Marketing specializes in using traditional and digital marketing to help businesses reach the next level. Call us at 801.657.4383 to learn more about how Facebook and AdWords can help your business grow!