Big changes are happening in AdTech. Over the past 20 years, advertising technology has exponentially increased in sophistication and effectiveness. This has led to incredible advances for marketers in the ways we promote goods and services. At the very core of this advancement is user data. From niche audience segmentation to personalized marketing experiences, user data has become the most valuable asset of nearly every company on the planet.
However, after a decade of data privacy scandals such as Cambridge Analytica and many others, the public has gained an increased understanding of how their data is collected, sold, and utilized—fueling public outrage and serious political pressure for change.
Faced with mounting pressure, digital giants Apple and Google have taken the opportunity to put user privacy first, limiting personal data access for marketers moving forward.
Digital ads have relied on personal data gathered by third-party cookies since the early days of the public internet in 1994. As part of their commitment to putting user privacy first, Google is progressing with plans to phase out third-party cookies on Chrome by 2022, and Apple's 14.5 iOS update has already begun to severely limit ad targeting capabilities across their mobile devices.
Instead of automatically opting users into tracking, Apple now requires apps that want to track user data for advertising on Apple devices to prompt users to opt-in first. Marketers are worried that if users are faced with a choice on whether they consent to third-party sites tracking their data, most users won't say yes—making it harder for ad campaigns to be effective.
What Are Cookies?

When you visit a website on your phone or computer, a small text file from the website attaches itself to your browser. That text file—called a cookie—holds data like your name, username, email address, and other personal information that can help marketers tailor future content to your preferences and interests.
Cookies are great for things like remembering products you left in a website's checkout cart, automatically filling in forms with your contact information, and showing you ads for products you're probably interested in. They're convenient for customers and provide helpful insights for marketers.
Up until now, businesses have been able to easily track website visitors using cookies. The data collected improves user experience and helps target digital ads to the right users. But some people (and corporations) aren't too happy about businesses knowing that much personal information about individual customers—hence: the cookie phase-out.
How Will This Change Impact Businesses?
Since the changes are still being rolled out, it's difficult to see how the cookie phase-out and iOS update will impact marketing efforts long term. Many small businesses have relied heavily on third-party cookies up until now, so this change might put a wrench in some digital ads for a bit. But not forever.
Marketers are a creative bunch. Many companies are already developing and launching early stages of cookieless ad targeting solutions. Fortunately, Apple and Google have been open about the updates for a while. It's given us and other marketers time to prepare for the iOS and Chrome updates so our clients are well prepared.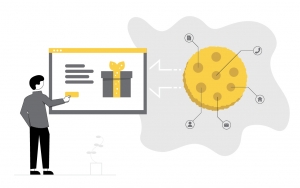 And even though this focus on user privacy changes our ad tactics a little, it's probably a good move in the long run. User privacy is important. We don't see the downfall of cookies as data we're losing, but as data marketers probably shouldn't have had access to in the first place. Like other smart agencies, we've diversified our marketing strategies and challenged ourselves to innovate. Organic marketing, SEO, and brand awareness campaigns are going to be much more crucial for businesses in the future—and we're ready for it.
Dive Deeper
There's no way we could cover everything about the updates and years-in-the-making privacy battle currently going on between tech companies and governments. So we've put together some resources to help you better understand the cookie crackdown a little better: